Forthcoming K&DLHG events.
Our Friday November 17th talk is: " A Year in the Life of Avon Dassett 1914-15" by local researcher Sarah Richardson. This is her second visit to us; she previously gave us the fascinating story of the Warwickshire women who fought for women's rights, including some very local stalwarts. Her talk this nonth is based on the work she and her group of enthusiasts have done to bring alive the impact on Avon Dassett of the first year of WWI. I hope to see you at 7.30 at the Village Hall for a fascinating talk.
Report: "The Rise and Fall of Percy Pilcher and the Art of Flying" by Roy Smart 20th October
Roy Smart assured us that he would not need the microphone when he came to talk to us last month. For once this proved to be accurate, as was everything else he told us in a revelatory talk, which touched on Greek mythology, early theories of flight, the first woman to fly, European scientific co-operation, and ambition. Percy Pilcher, of whom none of us had heard until that evening, could have been a hero and a household name but for the weather, a broken crankshaft and the desperate need to fund his flying experiments. Perhaps a little unfairly he was compared to Icarus, the son of Daedalus who escaped from the labyrinth on wings held together with wax. His hubris led to his downfall when he flew too close to the sun and the wax melted. Roy pointed out that the myth had a moral: proceed with moderation. Percy certainly had sky-high ambitions and the technical know-how to achieve his goals, but possibly the desire to be the first to attain powered flight did lead to his downfall.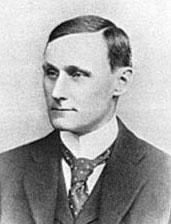 Percy Pilcher 1866-1899
He realised that to overcome the limitations and dangers of gliding (sadly illustrated by the death of Lilienthal in a glider crash in 1896) he would need to develop powered flight, so he formed a company to make engines. He made a triplane with an engine in 1899 but by then he was in debt and running out of money. Patrons were desperately needed. He put on a demonstration of his latest glider – the Hawk – at Eynstone in Kent, and then went to Stanford Hall under the keen eyes of potential financial and political supporters, including the Honourable Adrian Verney-Cave
e was clearly a gifted scientist and engineer. He joined the Royal Navy (aged 13) serving for 7 years before becoming an apprentice engineer with shipbuilders in Glasgow. By the age of 25 he was an assistant lecturer at Glasgow University. He mastered hang-gliding in the 1890s with a series of "soaring machines" inspired by bat and bird flight. Through his contact with German pioneer Otto Lilienthal he developed a flying technique which relied on shifting body weight to turn, rise and dip. In 1897 he broke the world distance record in the grounds of Stanford Hall, Leicestershire with a flight of 250m.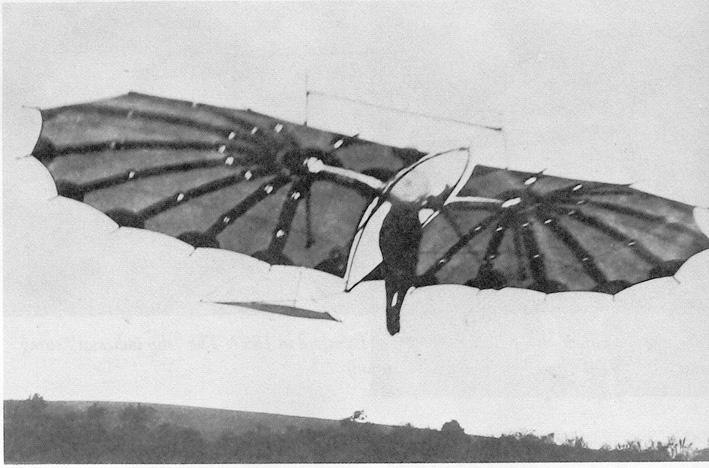 The Hawk glider, 1897, possibly being piloted by Miss Dorothy Rose Pilcher his cousin
Unfortunately his 4hp engine broke a crankshaft just before the planned event at Stanford Hall.
Such was Pilcher's need for funding, patronage, and the recognition that his ideas were viable, that he did not abandon the event, but instead intended to fly the Hawk, which he had successfully flown many times. His cousin Dorothy had also been towed into the air in the Hawk, becoming the first airborne woman, ten years before the French woman Therese Peltier. Dorothy was also the first woman pilot to crash into a cine-cameraman. On the late September day of the Stanford Hall demonstration the weather was stormy, wet and windy, and it was not until 4.00pm with the threat of failing light that Percy decided the weather was suitable. He made two successful flights but on the third the tail assembly of the glider snapped with a loud crack– Roy made us all jump with a wooden spoon brought sharply onto the table – and Percy fell 15m breaking his thigh and suffering back injuries from which he died the next day.
The BBC sponsored a replica of his triplane and, with a few tweaks, it flew considerably further than the Wright brothers managed 5 years after Pilcher's death. A tale of might- have-beens, memorably told by Roy about a man we shall now never forget. David Gill led our appreciative vote of thanks for a stimulating evening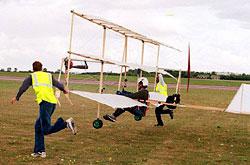 The BBC replica Pilcher triplane constructed at Cranfield University. It flew.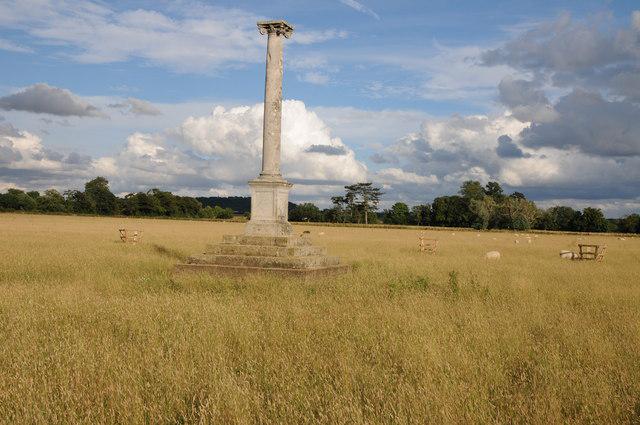 Pilcher's monument at the site of the fatal crash
Forthcoming Local History Events:
Friday 24th November is the Village Victorian Evening starting at 6.00pm. Many shops will stay open and there will be stalls and entertainments.
The Warwickshire Local History Society has circulated the following note to us,as affiliated members:
Dear Member I have been asked to send a reminder about the Society's next meeting at 8.00pm on Tuesday 21 November at the Quaker Meeting House, High Street, Warwick.  Rather than a one hour lecture, we are welcoming three members to speak on aspects of their own research.
We will hear several short presentations —
Alec Ross: Visualising Local History: the 1910-15 Valuation Survey in Stretton-on-Dunsmore
Stewart Fergusson: 'The Factious Citie of Coventry': Crisis and Change in the 17th Century
.Professor Ronnie Mulryne: The Stratford Guildhall and Shakespeare's Schoolroom.
The presentations will start at 8.00pm, with coffee or tea served, as usual, from 7.30pm.
We do hope you are able to come to what promises to be an interesting evening.
Best wishes
Lesley Caine (Membership Secretary)
Other Societies' Talks:
24th November: For railway history enthusiasts the ever popular Stratford and Moreton Tramway is the subject of a talk by Jackie Checketts to the Welford and Weston Local History Society at Memorial Hall Welford, 7.30pm
27th November. For Civil War enthusiasts Dorothy Entwistle is speaking to the Leamington History Group on "Re-enacting the Civil War with the Sealed Knot" at the Dormer Conference Centre, Dormer Place, Leamington, 7.30
27th November. A somewhat later war is the subject of David Morse for Marton Local History Group: The Home Guard at the Marton Village Hall, 7.30pm
Kineton Camera Club Calendar. The Camera Club has produced a calendar featuring historic and corresponding modern views of the village, which they are selling at £8.50 to raise money for local First Responders.. If you are interested in having one and supporting this worthy cause, they will be on sale and taking orders at our 17th November meeting and at the Victorian Evening Friday 24th November..
Committee Matters
Your committee last met on the 6th November. Our membership numbers have risen to 76, an increase over the last few years but still down on our peak of nearly 100. New members and visitors are always welcome, so please invite friends to come along to our meetings.
The 2018-19 talks programme is finalised and the Programme Card will be available as members renew or join in the New Year. We discussed the potential for members, and the wider community, to contribute talks or short presentations from their own researches or experiences. We might have more "members' evenings" like the biennial Christmas Treats, or more full evening talks by local speakers. We will make enquiries among members, but if anyone has a topic of local historical relevance which they would like to propose, or knows a good local speaker with such a topic, please contact any member of the committee. A form will also be handed out as members renew or join for the first time.
The Village Hall has a newly installed loop system. We hope to use it at our 17th November meeting, after learning how.
The Group has a Twitter account – @kinetonhistory – please have a look at it and tweet for updates and more.
The committee is keen to recruit new members to its ranks, and although the AGM is not until March 2018 if members want to have a say in running the Group, or know somebody who would, please start thinking about joining us!
The committee has discussed the Ashley-Smith archive with Gill, David Beaumont and Bob Bearman and identified some ways in which members could assist in making it accessible, particularly by cataloguing the boxes of material collected by Peter. In the meantime DB is answering email queries with the help of a digital copy of Peter Ashley-Smith's researches.
The next Committee Meeting is on Monday 12th February 2018
DF 11.11.2017