NEWSLETTER 6th JULY 2017
Peter Ashley-Smith.
The Group and the community have lost a gentleman and an encyclopaedic source of local history information. As you are all aware Peter Ashley-Smith died unexpectedly on 12th June. St Peters church was full for his memorial service on Friday 30th when the Rev Barry Jackson and many friends and colleagues paid tribute to the contribution that Peter, with Gill, has made to the life of Kineton, and to the History Group in particular. Our President Bob Bearman described Peter's exemplary local history principles and practice, with reference to Hoskins' handsome tribute to local studies. Peter's brother Jonathon gave a humane, witty and moving address describing their relationship with reminiscences of their childhood and careers. For myself I will miss his immediate responses to even casual queries, his reminders about events and his generous self-deprecating contributions to discussions, committee meetings and talks. His legacy is assured, and I am still working with his transcription of the Burial Register, completed while Gill managed the churchyard survey – a project which exemplified the PASGAS teamwork. He will be missed, and our condolences go to Gill for her loss.
Trip to Stokesay Castle and Ludlow Sat 24th June.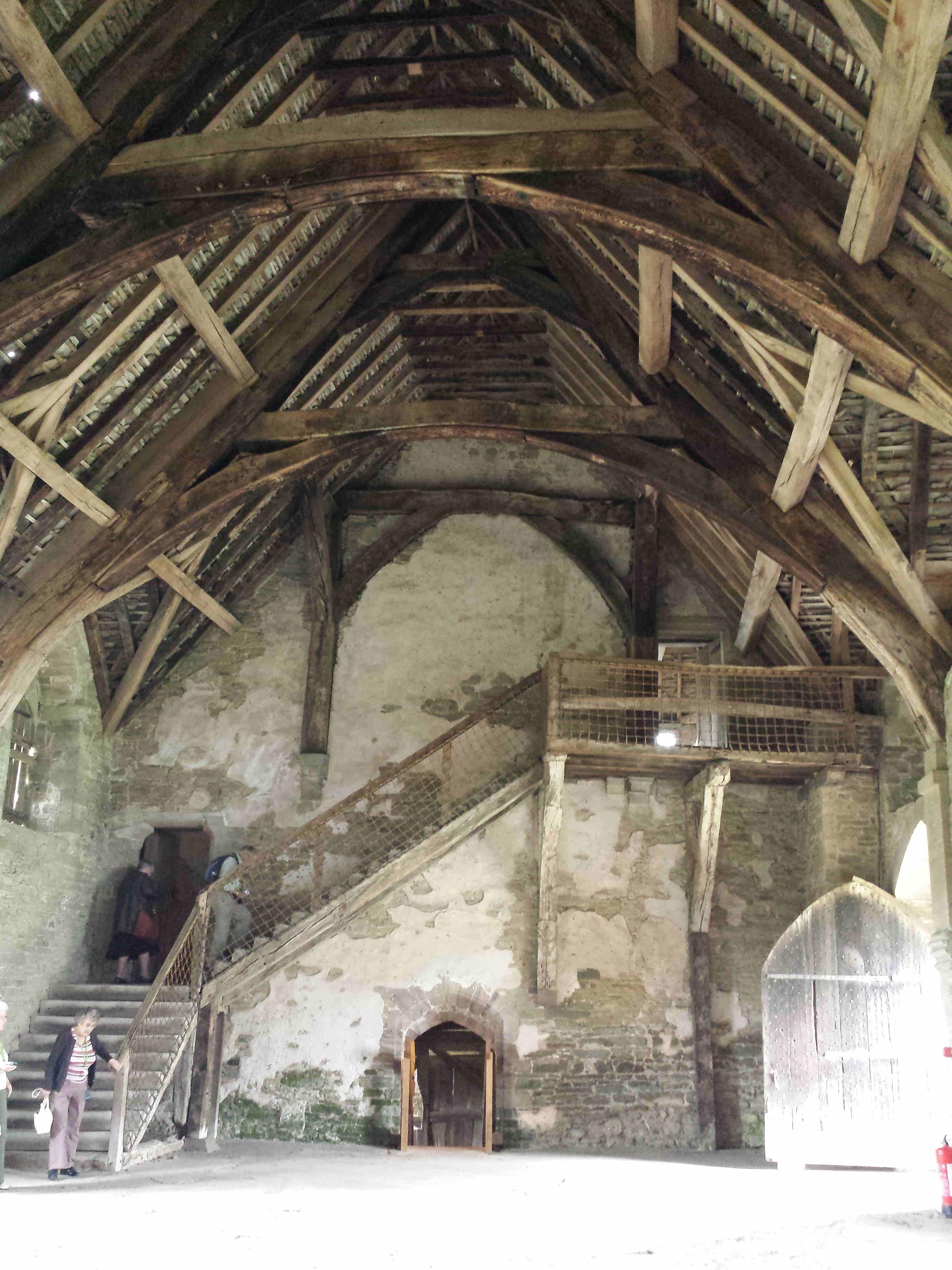 Stokesay Castle. After a short delay (!) the Johnson's coach to Stokesay passed without incident through the increasingly attractive West Midlands landscape, and we had our first insight into the skill of our driver Tracy as she negotiated the very tight entrance to the Stokesay car park. As we arrived early at the medieval castle – really a 13th century fortified house – we had it virtually to ourselves for the hour and a half we spent there, and our numbers did not overwhelm the essential but tiny café. Stokesay Castle is a remarkable place. Now owned by English heritage it is uninhabited and in parts stripped back to the stones. The sumptuously carved 17th century panelled solar chamber is in contrast to the massive medieval hall with its exposed roof timbers, cantilevered stairs, and uneven floor.
The Hall, with Joy and David Gill, and Pam Redgrave posing as scales to show its size
Visitors climbing the defensible stairs to the impressive south tower rooms were subject to the squeaking swallows swooping through the glassless windows, and the rare bats roosting in the roof. The 17th century gatehouse has fine wood carvings depicting Adam and Eve, dragons, and contemporary figures. All this was excellently described by the (free) audio tour devices. The adjacent mainly 17th century parish church of St John the Baptist was a bonus. It has a West Gallery originally for choir and musicians (see Hardy's "Under the Greenwood Tree"), a wonderful canopied double pew and a two-decker pulpit. The wall paintings have religious texts including the Lord's prayer, and some interior funerary monuments have trompe l'oeil painted surrounds with prayer texts, presumably to enhance their effectiveness.
Ludlow. Tracy then threaded her coach through the congested streets of Ludlow, earning our applause, noticed, we discovered later, by the nearby Saturday Market stallholders.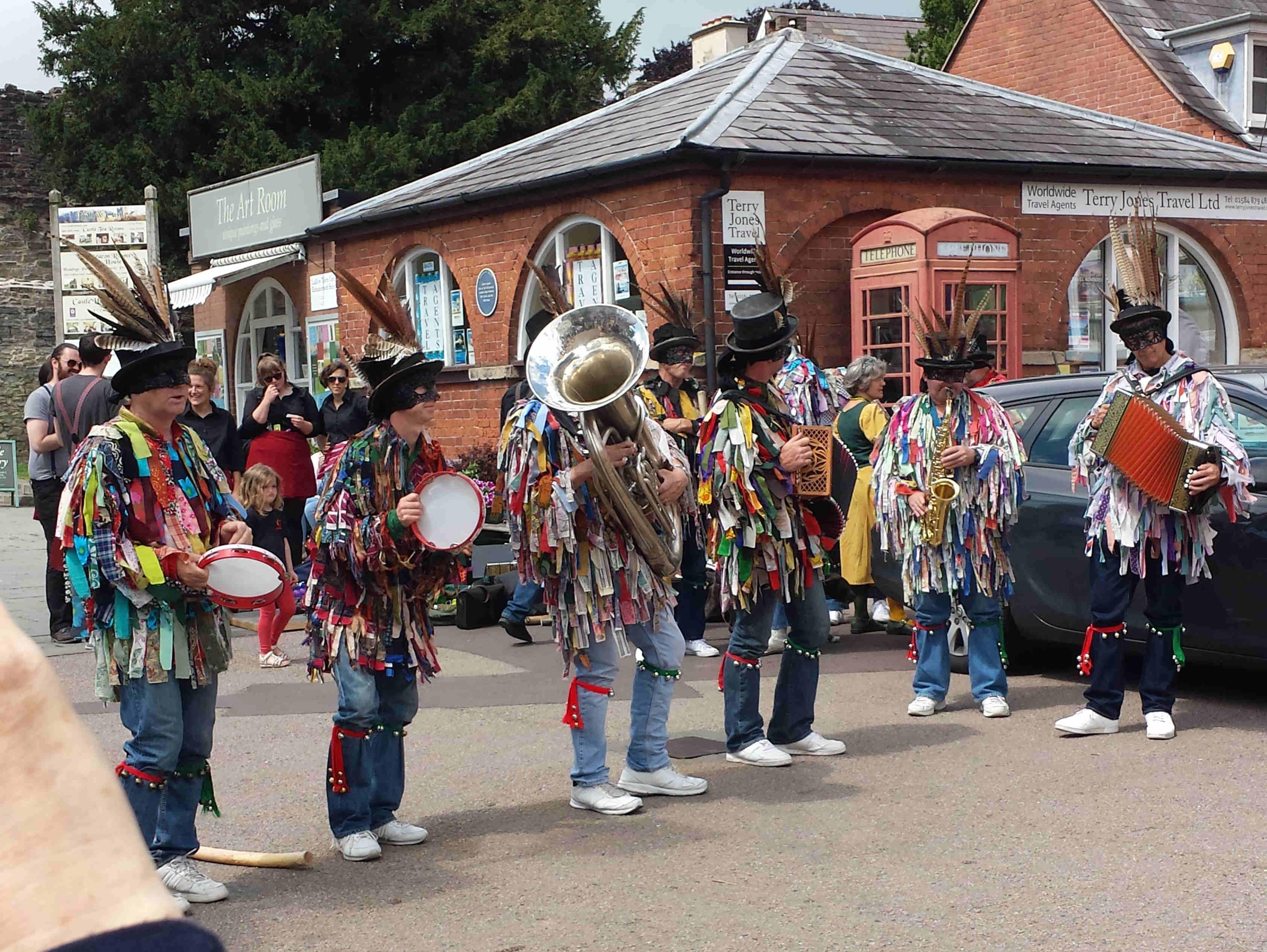 As we disembarked we found ourselves watching a skilled Morris dance troop, with an all female group, followed by a lively male stick dance team in outlandish costumes, followed yet again by several clog dancers who danced with extraordinary speed and precision, all the dancers accompanied by live music – accordions, a tuba, tambourines, violins and a surely inauthentic saxaphone.
The town is stuffed full of historic buildings – 500 of them are listed. The most elaborate had carvings similar to those at Stokesay. It was striking that the historic town centre is not disfigured by chain stores and high street familiar names, which tend to make so many British town centres indistinguishable from one another. The Ludlow council's positive strategy to refuse permission to such planning applications has resulted in a charming and idiosyncratic centre at a human scale.
We saw an ironmongers the like of which we thought had become extinct (remember Hoods in Banbury?), and a haberdashers (do young people even know what such a thing is?), as well as any number of small specialist shops, some no doubt dependent on the tourist trade but none the worse for that.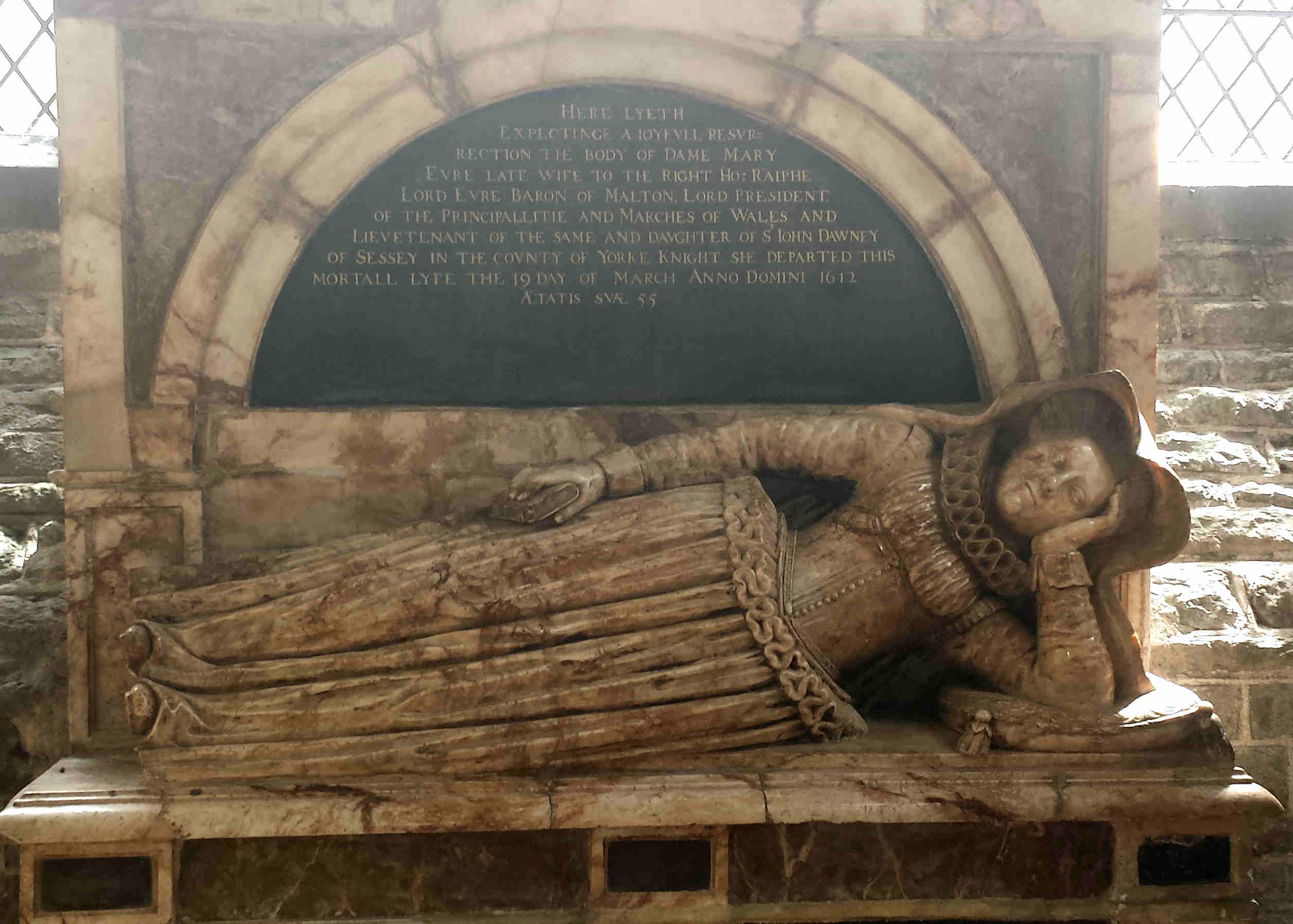 The imposing church of St Lawrence was hosting a conference of the Church Monument Society, so at lunchtime there was the spectacle of the chancel and north aisle occupied by tables of earnest academics and experts eating and debating the qualities of the rather wonderful sculptured monuments around them. Dame Mary Eure (d. 1612) lies, stiff as a board, propped on her elbow "expecting a joyefull resvrection".
It was worth scrambling round the lunching conference delegates to examine the fabulous series of misericords in the choir stalls. One shows a woman still clutching the false measure that got her into trouble, being carted off to hell, hoisted over the shoulder of a devil, accompanied musically (?) by a bagpipe-playing demon. Another demon reads a scroll listing her sins and her bottom can be seen disappearing into hells mouth.
After a last cup of tea at a table overlooking the passing street scene, it was back on the coach for some more heroic coach driving to get out of the town, then smoothly back to Kineton.
The day was a great success and our thanks are due to Isobel Gill who organised it so efficiently.
Forthcoming K&DLHG events.
Friday July 21st K&DLHG evening visit to Moreton-in-Marsh, guided by Tim Porter. Meet at the War Memorial in the High Street in Moreton at 6.30.
Thursday August 17th K&DLHG evening visit to Shipston-on-Stour guided by Mike Ashley. Meet 6.30 at the Telegraph Street car park, Shipston
Friday September 15th sees our first evening talk after the summer outings: " Rebuilding Kineton Railway Station" by Mike Reader
Other Local Events:
Chedham's Yard has a series of summer events some of which have a historical focus:
Sat July 8th Blacksmiths tales and customs
Sat August 5th Family history with Michael Dane
Sat September 9th Heritage Open Day
All open 10.00am to 4.00pm
Sun 23rd July: The Archaeology of Tysoe, The Old School Room, Tysoe 10.00am – 4.00pm.
An exhibition of finds and research in the Tysoe area.
Committee Members: a reminder that the next committee meeting is Monday 4th September
DF 07 07 17