The last evening talk on March 17th was "Spade Husbandry" by Judith Ellis (not Ruth Ellis as I mistakenly announced her previously!)  This was not a gardening talk. She described the political development of the allotment movement in Campden, from her own research, showing how in Campden and elsewhere it was an important social force in the 19th century.  This was particularly relevant to Kineton and district, as several major figures in rural social reform at that time came from Tysoe (Joseph Ashby), Chadshunt (Bolton King) and Barford (Joseph Arch).  Judith's talk was fascinating, well presented, clearly illustrated and delivered with a personal touch, possibly fired by the fact that her own house was closely associated with Campden's allotments.
Next talk:
Long Compton at Domesday       by Bill Cook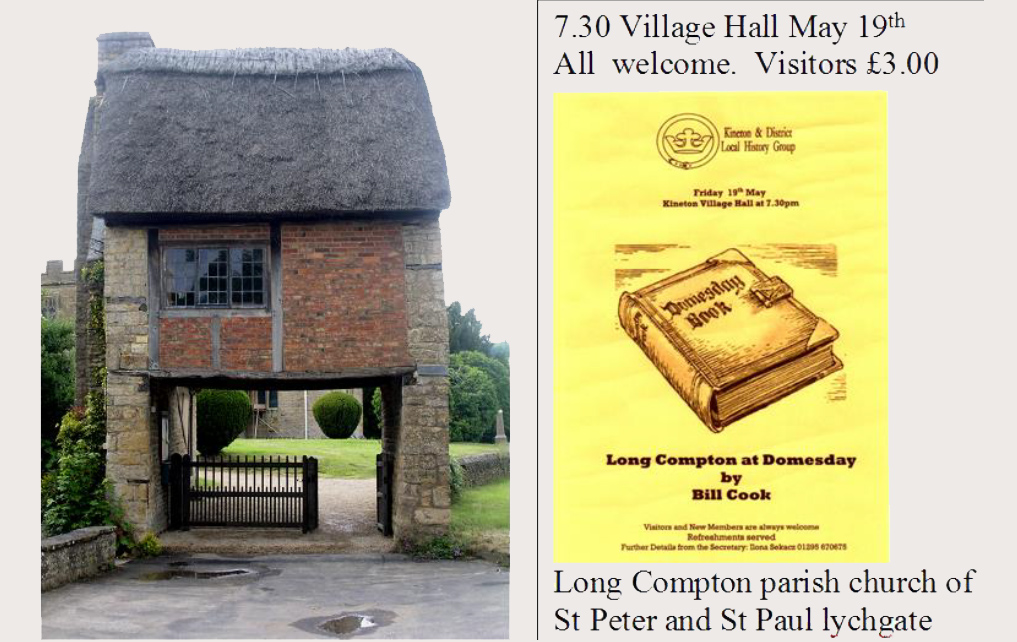 SUMMER OUTINGS
SATURDAY JUNE 24th  COACH TRIP
STOKESAY CASTLE and LUDLOW TOWN
£22.00
(Ludlow Castle £5.00 entrance fee not included)

Stokesay Castle, England's finest medieval fortified house (entrance fee included). Ludow historic market town, medieval castle and St Laurence's Church the "Cathdral of the Marches" as well as the Ludlow Spring Festival-in full swing.  Coach leaves St Peter's Bus Stop 8.00am, return by 6.30pm
FRIDAY JULY 21st
Evening tour of Moreton- in-Marsh plus WI provided refreshments
£5.00
Meet 6.30pm at the war memorial in Moreton-in Marsh.
Guided by local historian Tim Porter

THURSDAY AUGUST 17th
Evening tour of Shipston-on-Stour plus U3A provided refreshments
£5.00
Meet 6.30pm in Telegraph Street car park Shipston-on Stour
Tour guided by Mike Ashley

Information and tickets for all outings from Isobel Gill 01926 640426 or Ilona Sekacz 01295 670675 or at 19th May meeting
Other News
Sadly our member Peggy Hill has died since our last meeting.  She came regularly to our meetings and outings until her recent illness limited her mobility. Her presence in the village will be missed.
As well as our web site (www.kinetonhistory.co.uk), our Vice Chairman Roger Gaunt and his daughter Lucie, with David Beaumont, have organised a Twitter account: @KinetonHistory where you can post comments etc., and remember our email address:  kinetonhistory@yahoo.co.uk for queries and contacts.
Correction and apology.   By some oversight, despite proof reading and scrutiny, Peter Waters' name was omitted from the list of committee members on the 2017-8 Programme Card. His phone number is 01789 740823.    My apologies to Peter.
Committee Meetings
Just to remind the committee that we have arranged an extra meeting for the 3rd July at 7.30 at the Library, specifically to discuss next year's talks programme. The regular autumn committee meeting will be on 10th September.
Other events
Thursday 19th May 7.30 Warmington Heritage Group talk by Professor John Hunter: "Memories of a Forensic Archaeologist" Warmington Village Hall.
Saturday 20th May 10.00am – 4.00pm Southam Heritage Collection Local History Fayre and Valuation Day at St James' Church, Southam.   Entry free, valuations £1.00
Friday 14th July 10.am – 2.30pm Portcullis History study day led by Dr John Hunt "Warriors, Warlords and Saints: some themes in Mercian history" Hatton Village Hall fee £30.00 inc lunch  (www.portcullis history.com)
Friday – Monday 25-28th August (August Bank Holiday) Hornton History Group event "Looking Back on Life in Hornton" Hornton Pavilion and village trail,