On Friday 20 November 2015 David Fisher presented a talk entitled "Kineton's Soldiers from Bridge Street during and after 1st World War" that included a considerable amount of local knowledge about the families involved. It has been decided to make this information available to all who may be interested. Below are extract's from David's presentation notes that are listed alphabetically by family name rather than the order they were presented in the talk.
COLLINS
The Collins family lived in the cottage three doors down from Fishers Shop now 3 Bridge Street. Joseph Collins (born 1866 Kineton) and Mary Ann Collins (born 1867 Kineton) had previously lived with the family in Back Lane, Kineton (1901 Census) where Joseph's occupation was given as Engine Driver at Sawmill, by 1911 his occupation was Domestic Gardner. Two of their three sons served
John Ernest Collins born in Kineton and Baptised 6th Oct 1895 Kineton
He enlisted at Stratford on Avon on 15th Dec 1914 giving his occupation as groom, joining the 8th Battalion (Service Bnttalion) Kings Royal Rifles Pte R/8208 on 18th December 1914. Stationed at Greyshott in Surrey until February 1915 the Battalion moved to Bordon Training Camp in Hampshire for under fire training returning to Aldershot in Mar 1915. The battalion landed at Boulongne on 29th May 1915 and came under the orders of 41st Brigade of 14th (Light) Division. Seeing service at the Battle of Hooge where the Germans first used flame throwers in July 1915 and the 2nd Attack on Bellewaarde in Sept 1915
John Ernest was wounded on 20th November 1915 and taken to the casualty clearing station at Lijssenthoek (The biggest evacuation Hospital in The Ypres Salient used from 1914 -1920) where he passes away the next day.
He is buried in the Lijssentheok Military Cemetery, Poperinge, Belgium grave ref 11.D.1A
On 5th April 1916 Mary Ann Collins signed for her son's effects which consisted of a belt disc, a knife, letters & photos, pocket lamp, gospel & hymn book, two lighters & three numerals. His father signed for his plaque & scroll on 7th July 1919 & on 23rd July 1921 his British War Medal & Victory Medal
Joseph Henry (Joe) Collins born in Kineton & baptised 10th July 1898
Joined the Army after 1916 and was a private in the Worcestershire Regiment No;- 35164 served in 2nd & 3rd Battalions there is no entry date on his medal Index Card not awarded the 1914 -1915 Star. Nothing is known of his Military Service.
His death was registered at Warwick in 1946.
COURT
Francis John Court born July 1888 in Tunbridge Wells, Kent, the only son of Francis Court (born Kineton 1860) and Hannah (born 1867 Nuneaton) In 1911 Francis John Court was living with his Grandmother Elizabeth Court in Bridge Street, Kineton (Admirals House) and working as a clerk for The Stratford & Midland Junction Railway.
His mother and father were living at 247 Coton Road, Nuneaton where his father was working as a Warehouseman for the Co-op. His Grandmother Elizabeth was the newsagent and Stationer and had been a widow since 16 July 1871 when her Plumber & Glazier husband Thomas Court had passed away, Elizabeth herself passed away 26th Feb 1912 and is buried beside her husband in Kineton Churchyard. Elizabeth had been the church organist until 1890 and had lived and traded in Bridge Street for 55 years.
Francis enlisted into the 5th Service Battalion of the South Wales Borderers
The Battalion was formed at Brecon and moved to Park House Camp, Tidworth and by Dec 1914 they were in Billets in Basingstoke On 10 Jan 1915 they became a Pioneer Battalion and moved to Burnham and then to Bulford Camp in March 1915 then finally to Pirton Down before embarkation to Le Harve on 16th July 1915 when in France they became part of the 58th Brigade of the 19th Western Division Clp – Sgt 15156 when and where he enlisted is not known. But he ended his career as Colour Sgt
The Battalion received its baptism of fire at Loos in Sept 1915 staying in that sector for winter repairing roads laying tramways and digging trenches
In March 1917 they moved up to Ypres to prepare for the attack on the Messines Ridge. Employed in Summer & Autumn 1917 during the third battle of Ypres and at Passendale
In the great German Attack of March 1918 they fought for the first time as Infantry, sustaining 150 casualties, finally they took part in the stemming of the German Advance on the River Ainse in May & June 1918
The Battalion was disbanded in June 1919 and Francis was demobbed on 17 June 1919
He is remembered on the Roll on Honour of the Stratford and Midland Junction Railway
He died at 'Sarcas Dean', Rickmansworth Lane, Chalfont St Peter, Buckinghamshire on 10th February 1960 and is interred at Breakspear Crematorium, Ruislip.
FINDLEY
Alexander Wilson Findlay MRCVS, Bridge Street, Kineton
Born 1877 Brighouse, Yorkshire
1901 Census lived in 2 rooms at 31 Portland Street, Leamington Spa (Vet)
1911 Census Bridge Street. Kineton in the cottage above the Indian Restaurant End Gable Cottage nearest the Road
The cottage is no longer there as it has been incorporated into the next cottage
Feb 1st 1913 married Beatrice Margaret Susan Thornton at Berkswell, Warwicks
She was the head teacher at Kineton Council School and had been lodging with Mrs Eliza Navet (French national) in Warwick Road (1911 Census)
After the marriage & Honeymoon they moved into a house vacated by Mr J, Lunmon, in Warwick Road. (Leamington Spa Courier)
In Early July 1916 he was called before the Tribunal where Miss Verney said that they wanted vets in the army very badly, Findlay replied that he would be pleased to go if he could find someone to take his place. He was exempted. Findlay belonged to the Fyfe Lodge Tennis club for many years and usually helped in the organising of The Hospital Ball (An annual event in the Village)
After leaving Kineton they moved into 16 Guild Street, Stratford on Avon
Alexander died at Guild Street in Jan 1950 being buried in Stratford on Avon Cemetery 17.01.1950
Beatrice was buried in the same Cemetery 09.11.1957
Their son William was killed in a motor accident in 1936 and buried at Stratford on Avon Cemetery on 16.07.1936 he was 22 years old and his occupation was given as Artist.
FISHER
The Fisher Family, Fishers Shop, 2 Bridge Street, Kineton
Joseph Fisher, Draper & China dealer moved to Kineton in about 1906 from Stratford on Avon. He was born in 1855 at the Manor House, Upper Quinton, Warwickshire where his father William Wadam Fisher farmed, he set up a drapery business in 38 High Street, Stratford on Avon, and at various times had shops in Henley in Arden & Willenhall in the Black Country, He brought the business in Kineton off the Castle family in 1886 and put a manager in to run it. By 1901 my Aunt Elsie May Fisher was running the business until the rest of the family moved to Kineton in 1906
Five of Joseph Fishers sons served in WW1 my father John Burdon Fisher JP was the only one who did not, being born in the autumn of 1901 Joseph received a telegram on 18th Dec 1915 as follows: –
Sir,
I have the honour to inform you that the King has heard with much interest that you have at the present moment five sons serving in the Army
I am commanded to express to you The King's congratulations and to assure you that His Majesty much appreciates the spirit of patriotism which prompted this example, in one family, of loyalty and devotion to their Sovereign and Empire
I have the honour to be,
Sir,
Your obedient Servant
Keeper of the Privy Purse
Joseph Bernard Fisher, born 5 Tyler Street, Stratford on Avon 30 Nov 1898 so in 1914 he would be 16 not 18 until Nov 1916
He was an apprentice at Alfred Herbert's in Coventry and worked at the Edgwick Factory
Coventry Evening Telegraph reported on Nov 26th 1914 that Joe was serving in the Warwickshire Yeomanry and we know from photographs that his favourite mount was called Maggie
He later joined the South Staffordshire Regiment when he went overseas is unknown as there is no entry date on his Medal Index card and no mention of the Warwickshire Yeomanry he did not receive the 1914-1915 Star so therefore did not go overseas until after 1915, although he would not have been of age until Nov 1916
The 1st Battalion South Staffs were part of the 94th Brigade of the 7th Division from Dec 1915 and fought in the 3rd Battle of Ypres, they moved to Italy in 1917 so he probably took part in the Battle of the River Piave and the Battle of Vittoria Veneto when the Austro Hungarian Army was destroyed and the empire broke up. One of the diarist of the campaigns of the 7th Division remarked the after the slaughter in the mud and floods of Passendale their move to Italy was like moving to another world
After the War he went back to Alfred Herbert's and remained there until he retired, He loved horses all his life and he was a brilliant model maker especially model boats
In 1921 he married Elizabeth Lillian Morris and he died in 1970
Archibald Rooke Fisher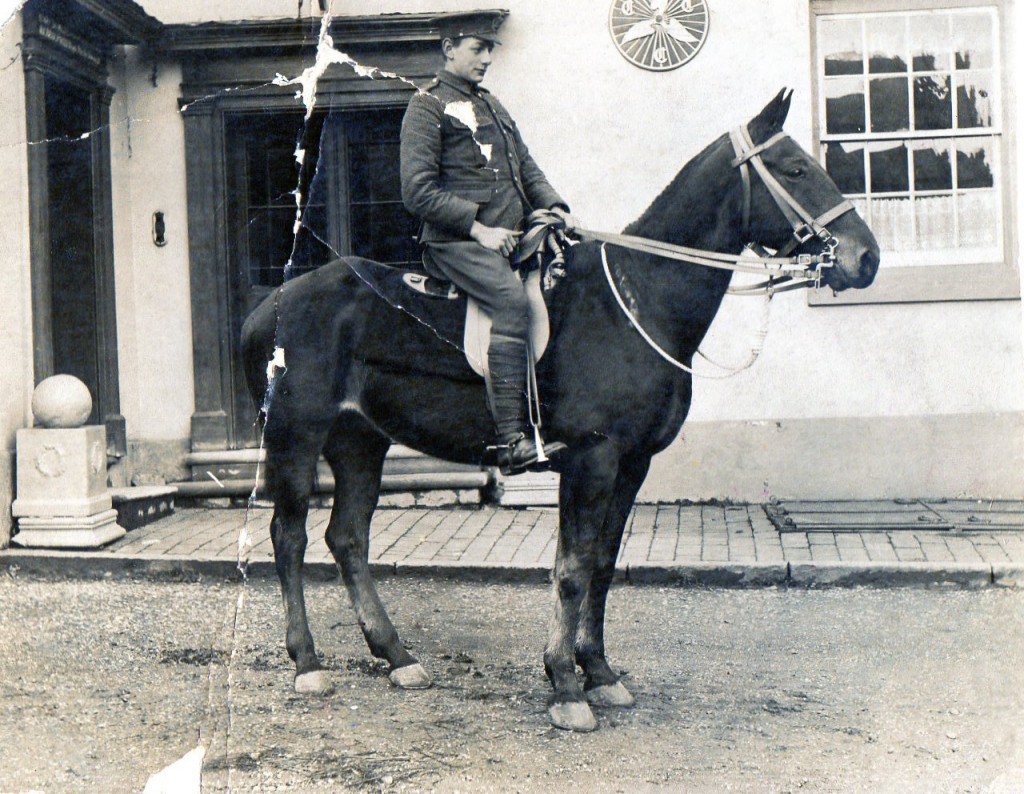 Born 31 Oct 1897 at 5 Tyler Street, Stratford on Avon
Apprenticed to Alfred Herberts, Edgwick Works, Coventry
Joined the B Squadron Warwickshire Yeomanry according to the Coventry Standard was serving by 26 Nov 1914 in the 4th South Midland Howitzer Battery but not on the Dec Nominal Roll of this Coventry Unit (B Squadron of the Warwickshire Yeomanry had Drill Stations at Warwick, Kineton, Brails & Southam), He arrived in Egypt on the 29th Aug 1915 and fought through the Palestine Campaign
Hospitalised on more than one occasion once at the Hotel de Mena, Cairo which was an Australian General Hospital during the war and had been owned by an English couple before the war, it is now a five-star luxury hotel The reverse of a post card reads dear Lals this house with the cross on was one of the hospitals I was in, it was a nice place too. The Australians ran the Hospital (Post marked 26 Jan 1918)
In April 1918 the Warwickshire Yeomanry merged with the South Nottinghamshire Hussar Yeomanry to form B Battalion of the Machine Gun Corp which was equipped with Vickers Machine Guns on the 26 May they Sailed from Alexandria on the Leasowe Castle, on the next day at 12.25am they were torpedoed on the starboard side 100 miles from Alexandria. The ship sank in 2 hours
The ship was abandoned and a Japanese destroyer and HM sloops Lily & Ladybird came to the rescue, she was carrying 3,000 troops of which 101 lost their lives including the ship's Captain, Captain Holt and Lt Col Greye-Cheap of the Warwickshire Yeomanry. They were taken back to Alexandria and re-embarked on the 'Caledonian' arriving at Taranto on the afternoon of the 21st June they en-trained, for France at 5pm on 22 June arriving at Etaples at 7am on June 29th
He was demobbed on 28 Feb 1919 and returned to Alfred Herberts in 1927 he married Mary Amelia Bull from Exhall and settled in Coventry in the big raid on Coventry in WW2, he lost his house and found temporary accommodation above the Rose & Crown in the Market Place at Kineton and then a cottage in the row by the Mill. He died in Kineton on 3July 1947 his funeral taking place at the Methodist Chapel on 7th July conducted by the Rev Lane followed by burial in the new cemetery, He never really recovered from the effects of WW1, his daughter Betty is buried with him
Lt Reginald William Fisher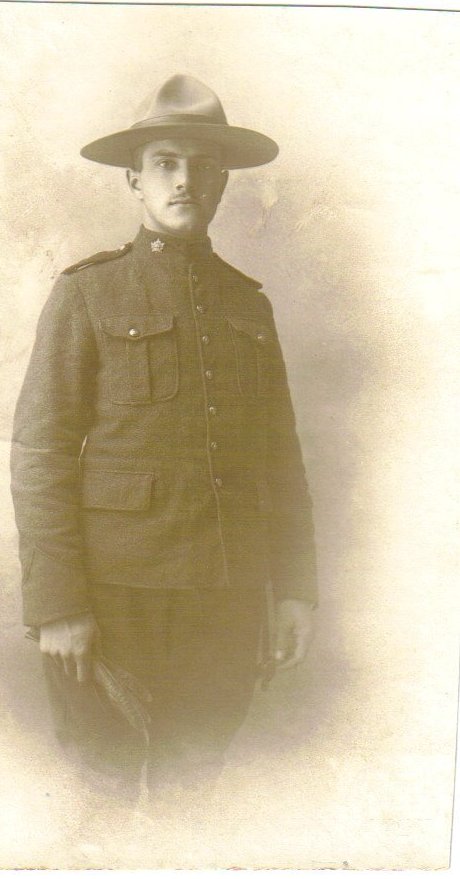 Born 3rd Dec 1891 at 38 High Street, Stratford on Avon
Emigrated to Canada on the 'Southwark' White Star Dominion Line from Liverpool to Quebec, going on to Edmonton, Alberta where his sister Winifred Bore & her husband lived, they having emigrated there in 1906 after their wedding in Stratford. In 1910 Mary Clarissa joined them followed by Mable and Cissie Trenfied in 1911
Once in Edmonton he got a job with a firm of Auditors, Blyth & Baldwin
When war broke out he joined the 19th Alberta Dragoons at Valcartier Camp, Quebec on 23 Sept 1914 although he had joined the Militia 6 weeks preciously
On Aug 26th 250 Officers & Men along with 210 Horses departed Edmonton for Valcartier Camp where they were issued with Colt automatic pistols and 1890 or 1899 pattern swords
On Oct 15th the Dragoons received orders to sail, the horses were loaded on the SS Montreal and they sailed from Gaspe to Plymouth and then by train to for Sailsbury Plain firstly under canvas and then Newfoundland Farm and ultimately Bulford Barracks. While in England they were issues with the more reliable SMLE111 instead of the dreaded Ross Rifle and the modern 1908 pattern sword,
They landed at St Nazaire on 11 Feb 1915 The First Canadian Unit to set foot in France. Upon arrival they were entrained for Bailleul, west of Ypres
They were to check out the ground on the Aubers Ridge ready for a rapid advance after the battle of Neuve Chappelle, which never came, Following the attack they provided reconnaissance in front of the entrenched infantry before being moved to Mount Cassell north of Ypres. On 23 April whilst in a bivouac at Trois Tours Chateau the first German Gas attack took place and the Dragoons were employed in reconnaissance and defining the enemy after the attack.
They moved on the Battle of Festubert 15 – 25 May 1915 which was really the second phase of the failed attack on the Aubers Ridge in a pincer movement The 1st Canadian Division formed part of the Haig's First Army, The Canadians did not come into action until 20th May the attack was in the end called off due to the fact that the troops were running out of Ammunition a fact reported by Charles a Court Repington a Times correspondent with friends in high places to the waiting world
Repington's full name was Lt Col Charles Henry Wyndham a Court Repington known as 'The Gorgeous Wreakington' after an affair with a fellow officers' wife, Lady Garstin which ended in a nasty divorce case, and caused him to resign his commission and become a Times War Correspondent. He had decided to write a book of the War after its conclusion and an entry in his diary for 10 Sept 1918 reads 'I said we now call it the 'The War', but that this could not last. The Napoleonic War was The Great War, to call it The German War was too much flattery for the Boche, I suggested a shade better title, and finally we mutually agreed to call it 'The First World War'
When his book was published called 'The First World War 'it became a best seller and the name stuck
He was mentioned in dispatches from Earl Haig
There were over 16,000 Casualties of which over 2,000 were Canadian and also a lot of Indian troops
On Jan 1st 1916 Reginald was commissioned into the 10th Northumberland Fusiliers in the field in time to take part in The battles of the Somme which commenced in July 1916 he was wounded on 20th Sept at Peaks Wood and the War Dairy for that day say' sent to Hospital' but the medical board on 29th Sept 1916 declared him unfit for service with gunshot wounds and on 9th Nov 1916 declared unfit for 2 months with home leave and transferred to the 3rd Reserve Battalion on the 14th November. On 20th Nov he was transferred to the 6th Garrison Battalion Royal Welsh Fusiliers for light duty at home or abroad, he remained in England until Jan 1917
He arrived in Alexandria on 10 Jan 1917 on secondment to the 1st/1st Herefordshire Regiment for the Palestine Campaign led by General Allenby to drive out the Turks the Herefordshire's fought in all three battles of Gaza and distinguished itself at the battle of Beersheba where Reginald was severely wounded on 15th November 1917, he was sent to the Nazareth Hospital in Cairo for 10 weeks and then sent home embarking Alexandria 20 Jan 1918 and arriving Avonmouth 1st Feb 1918
Firstly, to the John Ellerman Hospital, Regents Park for 10 weeks then to 23 Portland Place for 3 months then to the Prince of Wales Hospital, Marylebone for 2 months then to Convalescence at Osbourne House of the isle of Wight for a month before he re-joined his unit
On march 23 1919 he was readmitted to the Prince of Wales hospital for 5 months he then joined the repatriation Camp at Purbright and was demobbed on Oct 16 1919
In 1922 he married Muriel Bushell, at Paddington and went to work for her father who owned a Jewellery Company as the accountant at 32 Northampton Street, Birmingham. The firm was Herbert Bushell & Son Ltd. The son had been killed in action in the war, He became a director in 1933 until his retirement in 1966 when the business was sold to Messer's Steele & Co
He died at Four Oaks, Streetly, Warwickshire on 24th July 1969
Percy Watkiss Fisher DCM
Born 15 December 1881 at 38 High Street, Stratford on Avon and educated at King Edwards VI School, Stratford on Avon
After leaving school he was apprenticed to Chamberlain & Hookham, electrical Engineers in Birmingham & later to Ships Engineers in Liverpool
He enlisted into the Imperial Yeomanry on 12 March 1901 at Chester and was posted to 103rd Company Imperial Yeomanry (Warwickshire Yeomanry)
11 days later he sailed for South Africa and the second Boer War.
Captured & released at Brakspruit on Nov 13th 1901 when a patrol of 85 Officers and men were attacked and overwhelmed by 300 Burgers when patrolling a Blockhouse Line.
On his return home he and his companions were carried shoulder high through the Streets of Stratford from the Station to Fox the printer's premises in High Street where they appeared on the balcony.
This gave him the wish for adventure and he got a job with the Times going to the Russo Japanese War on 1904-05 as the Military Topographical Correspondent in the Company of Charles a Court Repington, at the end of the War, Repington published a book 'The War in the Far East' Percy drew the maps and battle plans which are in the book.
How he got to the Far East is unknown but he may have gone on the SS Haimun (a ship chartered by the Times as a mobile Radio transmitting station) he returned from Yokohama to London by the Pacific Mail Steamship Company
In 1909 he was again working for Repington producing a Distribution Map of Military Forces in The British Isles a copy of which is in the Archives of the Royal Geographical Society. He also produced maps for the War Office.
On June 17 1912 he left for engineering work in America arriving at Quebec in Canada and returning from New York arriving Liverpool 20 Dec 1912
At the start of WW1, he enlisted in 15th September 1914 in 22nd Battalion Royal Fusiliers, this was a Service Battalion raised at the White City and comprising partly of Colonials who had returned to the mother Country to join up and were camping at the White City and recruits from the Borough of Kensington,
At the beginning anyone with military experience was promoted to NCO's. Percy was quickly promoted from unpaid Lance Corporal to Sergeant within 2 weeks, The Battalion moved from the White City first to Horsham in October 1914 and then to Clipstone Camp, Nottinghamshire in June 1915 as a unit of 99 Brigade 33 Division.
In August they moved to Tidworth on Sailsbury Plain.
The sailed for France on 15th November from Folkestone arriving at Boulogne on the morning of the 16th November 1915 with a compliment of 30 Officers and 992 other ranks, on 25th Nov they were transferred to 99 Brigade in 2nd Division.
The first months were taken up with gaining trench experience and learning the practicalities of warfare. Although they were not involved in any serious actions until May 1916 when they practised attacks on dummy trenches finally on May 23rd they received order for an attack on Villers-au-Bois behind Lens, However the Germans put down a heavy Artillery Barrage and the attack was first postponed and then cancelled.
The counter order did not reach B Company and it attacked and held a German Trench. The Regimental History relates the action as follows:- The message to this effect did not reach B Company, under Captain Banbury, which went forward took the German trench, set to work to consolidate it, and stayed there under command of Lt R H Gregg, for an hour and a half , till recalled by Capt Miller the MO, who was out looking for wounded and who found the lost company, the casualties in this gallant and unfortunate adventure were heavy, Capt Banbury wounded and Lt.C J Fowler, who died in hospital on June 1st. 7 other ranks killed, including Sgt Drew and Pte Van Tromp and 78 wounded. The hardest work of all was carrying the wounded back to Cabaret Rouge the next morning when the Battalion was relieved: but at any rate we all felt that, as General Kellet said B Company had saved the honour of the Brigade. For this action Capt Miller got the DSO Lt Gregg the MC and Sgt PW Fisher, Sgt Wheeler, L-Clp W H Metcalf and Pte Webb the DCM
With July came the Battle of the Somme on 20 July the Battalion entrained at Dieval and went south to Amiens and then a gruelling march to Montauban and Delville Wood.
At 3.a.m on 27th July 1916 they moved into trenches in the valley. Every available man had to be thrown into the fight to take and hold Delville Wood.
During this action Sgt P W Fisher and CSM Evans received commissions for 'distinguished conduct in the Field'
On the night of the 3rd August the battalion was relieved by the first Royal Berks, By the 6th August the Battalion had lost 64 killed and 210 wounded
Percy started his new command on 7th August in the quieter section of the trenches at Hebuterne , in Sept he was granted leave and came home to collect his new kit and returned to Hebuterne on 8th September, three days later he took out a patrol and was killed by machine gun fire, he died instantly shot through the heart.
His company commander wrote 'He was held in high esteem by his brother officers, He is a great loss to the Battalion and his record has been a splendid one. Such men are irreplaceable. The Stratford Herald recorded 'He has built up a record that no former son of Stratford has approached, and his memory should be locally honoured'
My Grandmother wrote on the back of his portrait 'Sleep lightly lad, though art for the Kings Guard at daybreak in spotless kit turn out and take thy place of honour'
Raymond Wadams Fisher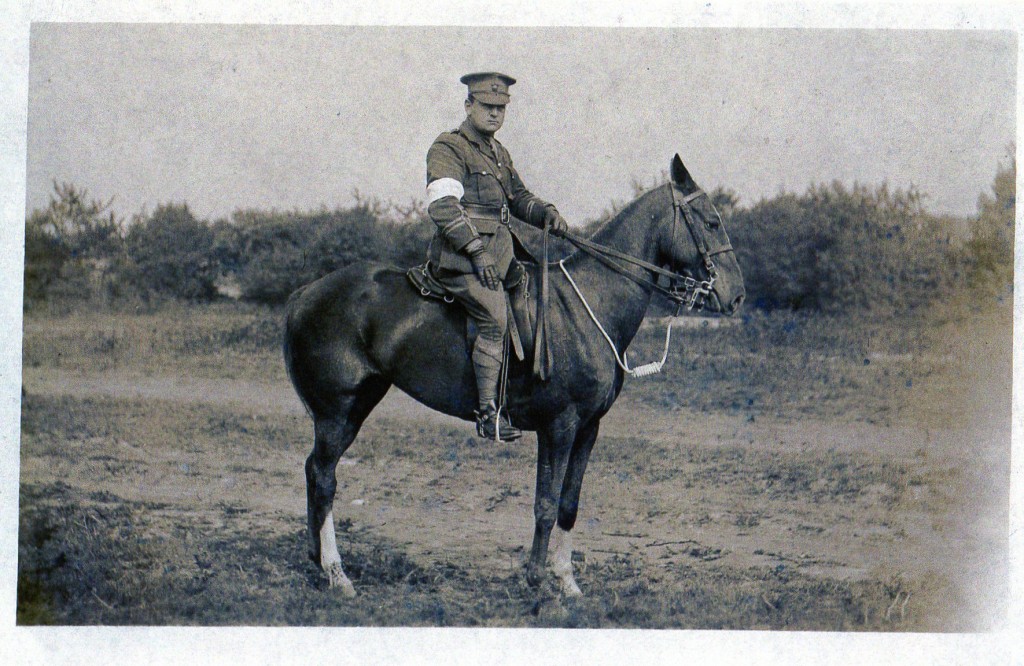 born 38 High Street, Stratford on Avon, Warwickshire 23th Feb 1883. Educated at King Edward VI 1893.
Served in the Warwickshire Yeomanry (2nd Boer War 1901-1902)
1904 was working as a language Teacher for the Berlitz School in Essen, Germany, according to his Officers record for WW1 he spoke French Dutch & German fluently and had a grasp of several other
He had travelled widely visiting France, Germany, Holland, Hungry, Canada & USA
In 1912 he turned up in Sofia, Bulgaria and joined the Macedonian-Odrin Volunteers sometime between the 2nd & 10th October 1912 on the 7th of April 1913 he was promoted to Senior Non Commissioned Officer and when he was demobilized he held the rank of Sub Lieutenant of the Reserve,
The Balkan War was an attempt to throw the Turks out of the Balkans in 1912 the Bulgarians then fell out with the Serbs over Macedonia and the allies fought each other in 1913, Raymond took part in all these battles against the Turks and the Serbs being wounded twice He was awarded the Silver Star of St Alexander Nefskey, & The Soldiers Cross for Bravery
He was also a British Correspondent which is confirmed by the Bulgarian Archives, He was a close friend of James Baucher who was the Times correspondent in Sofia and this explains his frequent transfer to different Military Units, He also sent reports to the Carneigie Endowment for International Peace and appears in their report of the' International Commission to inquire into the causes and conduct of the Balkan War',
The following report appeared in the Times on Saturday 23 August 1913:-
'At 5 o'clock this afternoon the Macedonian Volunteer legion returned. The men on their arrival at Sofia camp were received by King Ferdinand with Prince Boris & Prince Cyril. After a thanksgiving service his Majesty mounted his charger and led the Legion into the city. Immense crowds lined the streets and cheered enthusiastically.
Among these volunteers is an Englishman, a native of Stratford on Avon, named Fisher, who fought in all the great battles and was thrice wounded. He has been awarded the Soldiers Cross for Bravery and been promoted to the rank of Sub Lieutenant, in the beginning of the war the Legion numbered 18,000 men, but scarcely 12,000 are returning,
To-day King Ferdinand ratified the Bucharest Treaty and to-morrow the ratification will be sent to Bucharest.
After the war he remained in the Balkans until The beginning of August 1914 returning in time to volunteer for hostilities on 14th August 1914, he returned home and had his papers signed by his old headmaster
He was interviewed by Major H R Trickey at Kingston-on –Thames who wrote on the front of the file 'A very special case'.
On 3rd October he was commissioned into the 10th Northumberland Fusilier with the rank of Lieutenant with two years' seniority for service in the Boer War and the Balkans.
The 10th Battalion Northumberland Fusiliers was raised in Newcastle in September 1914 as a unit in Kitchener's New 3rd Army, they were the 68 Brigade of the 23 Division and moved first to Bullswater near Frensham and then to North Camp, Aldershot in December, where they were inspected by Lord Kitchener on 22 January 1915. In February they moved to Shorncliffe near Ashford in Kent where Raymond was promoted to Captain
On 25th August they crossed from Folkestone to Boulogne after final training at Bramshott. In September they were billeted at Baileul and they entered the line for the first time. Raymond was earmarked for special duties and was appointed Brigade Machine Gun Officer he sailed on the SS Arcadia from Marseilles on 13th November 1915 arriving at Salonika on the 24th to join the General Staff as an Intelligence Officer on Special Duties
He was killed by shell fire on the 20th September 1916 while on his way to a forward position to interrogate prisoners.
Raymond died in Salonika one day after his brother Percy was killed in France and on the same day as his other brother Reginald was admitted to hospital in France seriously wounded
On 13 November 1916 Raymond was mentioned in dispatches 'for gallant & distinguished service in the field'. The Senior Chaplain of 22 Division wrote to his father and said it was an irony 'that he should die at the hands of the people whom I think he loved next to his own countryman'
In 1936 his companions from the Bulgarian Army tried to find him, not knowing he had lost his life in 1916. In June 1936 Major FWC Fetherston-Godley OBE chairman of the British Legion brought home his document from Sofia to Stratford on Avon and they were presented to the family at the British Legion Fete at Shottery by Col Sir John Brown.
As a result of this there were numerous reports in both the National & Local Newspaper one of which was seen by his batman from the Salonica Campaign Pte Fallon, who was living in Ireland. He came over and met the family as an act of remembrance.
GARDNER
An employee of Dr Oldmeadow was Charles Gardner, listed as a Groom living at North Court on the 1911 Census. Charles Gardner was born on 26th July 1893 & baptised at Kineton Church on 2nd August 1893 the son of Martin & Mary Ann Gardner of Southam Street, Kineton. Charles enlisted into the Royal Marines at Birmingham on 18th Oct 1911 giving his occupation as Stable Hand he was given the No. 16143 he was 5ft 61/4 inches tall with a fresh complexion, blue eyes and red hair.
He started his training at Deal from Oct 1911 to the end of December when he was posted to the Portsmouth Division until 8th June 1913 when he embarked on HMS Liverpool the ship on which he was to serve until 21 July 1915.
HMS Liverpool was a Town-Class Light Cruiser build by Vickers Ltd and Commissioned in Oct 1910, she joined the 2nd Light Cruiser Squadron in June 1913 on the 22nd of August she took part in the Battle of Heligoland Bight the first Naval battle of the war. After the German Cruiser 'Mainz' was heavily damaged and disabled the five Town-Class Cruisers in the Squadron were ordered to cease firing at 12.55pm and a rescue operation was undertaken. Liverpool with two destroyers Firedrake & Lurcher, manoeuvred as close as they could to rescue the surviving crew. Liverpool detached from the main squadron at 7.45pm to transport 86 embarked prisoners of war to Rosyth, including the son of Admiral Alfred Von Tirpitz.
On the 27th Oct 1914 the Liverpool was in the company of the Battleship Audacious when she struck a mine off the coast of Ireland while on exercise with the Grand Fleet. All ships left the area except the Liverpool who was left as escort, all attempts to take her in tow to Lough Swilley failed and after the crew had been evacuated, she capsized and exploded killing a petty officer on the Liverpool with debris fragments.
Early in 1915 the Liverpool was detached from the Grand Fleet and sent to patrol the coast of West Africa to look for the Armed Merchant Cruiser 'Krinprinz Wilheim' the attempt was unsuccessful and the Liverpool returned to its namesake Port for boiler repairs. Charles returned to the Portsmouth Division until 26 August 1915 when he joined the crew of HMS Birkenhead on which he served until returning to the Portsmouth Division in January 1917.
HMS Birkenhead was another Town–Class Light Cruiser built by Cammell Laird at Birkenhead for the Greek Navy commissioned in May 1915 and bought back by the British Navy. She was assigned to the 3rd Light Cruiser Squadron of the Grand Fleet as in this role she took part in the Battle of Jutland on the 31st May – 1st June 1916. Charles received his prize money from the Battle of Jutland on 21 Jan 1922 and a further supplementary share on 29 Sept 1925.
On 5th March 1917 Charles embarked on what must have been one of the most dangerous jobs in the Navy, he joined the crew of Q25 the Lady Patricia or HMS Paxton. Q ships were armed Merchant ships in disguise the idea being to tempt U boats to the surface and sink them with gunfire. The Lady Patricia was built at Ardrossan DD & SB Co for the British & Irish Steam Packet Company in 1916.
On 30 Mar 1917 she was damaged by gunnery by U57 (Carl-Siegfried Ritter von Georg) in St George Channel and sustained 6 casualties.
On 20th May 1917 she engaged another U boat on the surface off the southern coast of Ireland, the engagement was inconclusive later in the day she went back to the area and was torpedoed and sunk by U45 (Leo Hillebrand) Lt. Commander George Hewett who was Lady Patricia's commanding officer & Sub-Lieutenant J W Johnson were taken prisoners.
The action had taken place 90 miles west of the Skelligs, HMS Wadsworth rescued 3 Officers and eight men on the 21 May and on the 26th 4men were rescued from a raft by SS Dundrennan. another boat with 26 survivors reached the Irish Coast on 27 May as Charles records states he left the ship on 27 May it is presumed he was on the boat that reached the Irish Coast he received a commendation from the Lord of the Admiralty for his services in this action. 31 Rn & RM personnel lost their lives in this action.
He never went to sea again as far as we know his later war service is all shore based either on Portsmouth Division or President 111 which was the accounting division.
He was discharged on 31 Aug 1919 receiving a war gratuity of £29 and then served in the reserve for five years.
His address on discharge is given as Southam Street, Kineton, Warwickshire
Charles had 2 other brothers who served their country
Martin Blackett Gardner born 28th Nov 1890 was working at the Warwickshire Hunt Kennels at the outbreak of War in 1914 he was one of the 16 Stable lads who went to Scarborough from Kineton Railway station in August 1914. He enlisted on 1st September 1914 at Scarborough and was posted to the 10th Hussars on18th May 1915 on 25th March 1916 he transferred to the 2nd Life Guards trooper no 4507
He served in France from may 1915 to 8th February 1919 he was discharged 9th March 1919. He died in June 1975 reg Shipston on Stour.
William Henry Gardner MM. was born 3rd May 1892 baptised Kineton 6th November 1892
In 1911 he is listed in the census as a domestic gardner but by the time of his enlistment he was working for the SMJ as a plate layer He followed his brother into the Royal Marine Light Infantry enlisting in the Plymouth Division on 22nd April 1915 on the 3rd October 1915 he transferred to the Victory Division Royal Marine Brigade. On the 3rd October 1915 Clp W H Gardner RMLI was gazetted for a Military Medal
He was discharged 28th March 1919, his record shows that he had requested Sea Service but never got it.
GARRETT
Arthur Sidney Garrett MM was baptised at Kineton on 8th December 1893, the son of James Thomas Garrett (born East Haddon, Northants) and Kate (born Bradfield, Northants) The couple first came to Warwickshire when James was appointed Farm Bailiff at Manor Farm, Butlers Marston but before 1900 James had become the Fishmonger (The shop now the Garage next to the Indian Restaurant) and part time postman living in Prescot House opposite his shop. Arthur was educated at Warwick School, where he excelled at sport playing Football, Rugby and Cricket. After leaving school, Arthur went to Culham College for Schoolmasters, situated on a bend in the river Thames near Abingdon, Oxfordshire it was founded in 1851 by Samuel Wilberforce the Bishop of Oxford as the Diocesian Training School. Whilst he was there he joined the College Corp of Army Volunteers, and at the outbreak of War was called up with 2/3rds of the students. Arthur is mentioned as being one of the first from the Village to join up on 4th August 1914 (Leamington Spa Courier).
He joined the 1/4th Battalion Oxfordshire & Buckinghamshire Light Infantry and due to his previous Territorial experience was made Corporal. On 25th August 1914, the Battalion arrived at Writtle, Essex made up to war establishment, having marched from their mobilisation point at Oxford. On 29th March, they embarked at Folkestone in SS 'Onward' at 11.00pm & disembarked at Bolongne at 2.50 am on the 30th March. April 17th 1914 saw their arrival at Ploegsteert, Belgium, where on 25th May they became part of the 145th Infantry Brigade in the 48th South Midland Division. From July 1915 to August 1916 they were based on the Somme, where they were billeted in a farm house in Courcelles au bois for nearly five months (a place he revisited with others from the Battalion after the war in the 1930's) Nov & Dec 1916 Le Sars, Jan to Mar 1917 Maisonette, Mar & April 1917 Peronne – Ronssay, May & June Hermis-Demicourt, August to October saw them fighting in the third Battle of Ypres & mid October at Vimy Ridge.
The Battalion arrived at Genoa, Italy on 27th November 1917, 27th February 1918, Montello and on 30th April they moved up onto the Asiago Plateau where the fighting began in June 1918. November 1918 saw them fighting in the Battle of the Vittoria Veneto in the Val d'Assa. On the 7th Nov 1918, the war in Italy had come to an end and Arthur wrote home to his mother: –
I was very pleased to receive a letter from you last night, I wrote to you one as well, but it was somewhat brief and hurried., I am looking forward to hearing about Woodfield in your next letter, now that the war has finished on this front and we are all feeling very satisfied and comfortable. The two or three days before the armistice were full of hard work and excitement. We had no idea what was happening on other parts of the front. So, the collapse came as a surprise to us. We knew he wanted to get back to his frontier but our attacks rather upset his plans. It was a strain climbing up one side of a mountain and down the other side and up another. The events of the last day were the most amazing. Our attacks began as usual in the early morning before dawn but there was practically no opposition. The Austrians were under the impression that the armistice had begun. Up till then we had heard nothing about an armistice and as we had received no orders we carried on. We marched on and on all day, crossing the Austrian border early in the day. By night time we were well into the enemy country, having taken thousands of prisoners, hundreds of guns and an immense quantity of booty.
There were one or two awkward situations, one of which might have been very awkward. For a party of us, just about two hundred of us reached the bottom of a mountain and ran into several thousand armed Austrians. Instead of fighting they held a conference and in the end surrendered. The armistice can into force the next day and since then we have had a very good rest in good billets. Rations are a bit rotten, but that is to be expected, as the transport through the mountains is a difficult job. I shall be pleased to get hold of some bread again. I hope you will appreciate this pad as it once belonged to an Austrian. We are keenly awaiting news from Germany, who I think will be obliged to throw in the sponge as we can attack her from the south now. Well I must close now, hoping you are keeping quite well.
Arthur was awarded a Military Medal for this actions in Italy. Sgt A S Garrett 200274 Ox & Bucks LI (London Gazette 28th March 1919 Issue 31257 page 4131)
He was also mentioned in dispatches from General F. R. Earl of Cavan KP. KCB.MVO. C in C British Forces Italy for distinguished & gallant devotion to duty he considers deserving special mention (London Gazette 3 Jan 1919 Issue 31106 page 282)
He was lucky in the fact that he had a spell of leave in Rome when the battalion suffered heavy casualties on the Italian front but not so lucky when he was hospitalised with typhoid from which he barely survived, towards the end of the campaign in Italy
After the war, he was due to return to Culham College, but due to the shortage of teachers he was considered to have qualified and so began his life as a teacher
He died in Claro, Yorkshire June 1980
His younger brother Percy James Garrett born in Bridge Street, and baptised 26 May 1901 at St Peters. At some point, he joined the Merchant Navy towards the end of the War, however he must have seen service during the end of the war (according to the family his ship was torpedoed) as he was awarded the Mercantile Marine Medal and the British Medal which was only awarded to those who served during hostilities the medals were awarded on 12th April 1923 the ribbons having been issued at Hull on 2nd Oct 1919
He was still serving in the Merchant service in the late 1930's
He died at Warwick Hospital on 8th April 1956 living at 31 Lansdown Street, Leamington Spa
(My thanks go to Donald Garrett, son of Arthur Sidney Garrett for a lot of the information in this piece, he also visited the billet in Courcelle au bois, long after the war and found the same family still farming there.)
 
GEDEN
George H Geden was born at Honeybourne, Worcestershire in 1858 he came to Kineton as a boy aged 13 apprenticed to Edward Railton the saddler and harness maker in Bridge Street, Kineton ( Shuckers Indian restaurant ) his wife Elizabeth was born in Tysoe. He eventually took over the business from Edward Railton and continued in Kineton for many years retiring to 14 Dale Street, Leamington Spa, where he died on 28th October 1925. he was a committed Christian and a great supporter of Kineton Methodist Church.
His eldest son George Thomas Geden was born on 30th March 1888 he emigrated to New Zealand on board the 'Otway' from London on 22 August 1913 and settled in Otago.
On 25th August 1914 he attested for the New Zealand Expeditionary Force giving his address as Care of the Post Office, Edievale, Otago, and his occupation as Labourer for the Public Works Department. On his attestation form he stated that he had served 3 years in the Warwickshire Yeomanry. He joined the New Zealand Medical Corp, Field Ambulance Division and served at various times with No1 & No2 Field Ambulance usually attached to the Otago Battalion of the Expeditionary Force. He embarked for Overseas Service on 23 Sept 1914 and arrived at Alexandria on 3rd December 1914 for service in Egypt leaving there for the Dardanelles 12 April 1915 attached to the Otago Battalion. On 25th July 1915 he arrived at a Port on Imbros Island which together with the island of Lemos where the main bases for the Dardanelles Campaign both Island being at the entrance to the Straits. On 2nd September he was evacuated to 1st Auxiliary Hospital at Heliopolis on the outskirts of Cairo which was run by the Australians on the 5th he was transferred to the 3rd Auxiliary Hospital and repatriated to New Zealand on the SS 'Tofua 'on 23 September 1915. After convalescence he sailed again for Egypt arriving at Suez on 4th May 1916 moving on to Alexandria on 31 May 1916, rejoining his unit on 4th June 1916 with the 11th reinforcements NZ Medical Corp. The year 1917 found him in France where he was gassed on the Somme on June 2nd 1917 and taken to the 77th Field Hospital, then Transferred to the General Hospital at Rouen and then home to the UK and the General Hospital Birmingham for a while until finally he arrived at the 3rd New Zealand General Hospital at Codford on Sailsbury Plain where he was taken on the strength and promoted to Corporal on 25th Sept 1917. His wound stripe was awarded on 8th June 1917
He was promoted to Temp. Sergeant on 1st March 1919 and on 7th April 1919 he attended the School of Massage at the Orthopaedic Hospital, Shepherds Bush, London for a course in massage. He embarked for home on the 'Hororata' on 28th July 1919 and discharged the service on 24th October 1919. He immediately re enlisted as a masseur in the NZ Medical Corp with the rank of Staff Sergeant at the King George V Hospital, Rotorua, finally leaving the service on 6th May 1920 and moving to Dawson Street, New Plymouth
He married Mary Barbara Kent Edie b.26 Jan 1887 Their first child Bruce Dene Geden only lived 2 days. George Thomas died 26 Oct 1946 his wife predeceased him dying 14th April 1935
His brother Arthur Bruce Geden MC was born at Kineton on 11th August 1891 he had become a teacher in a Private Secondary School by the time of the 1911 census.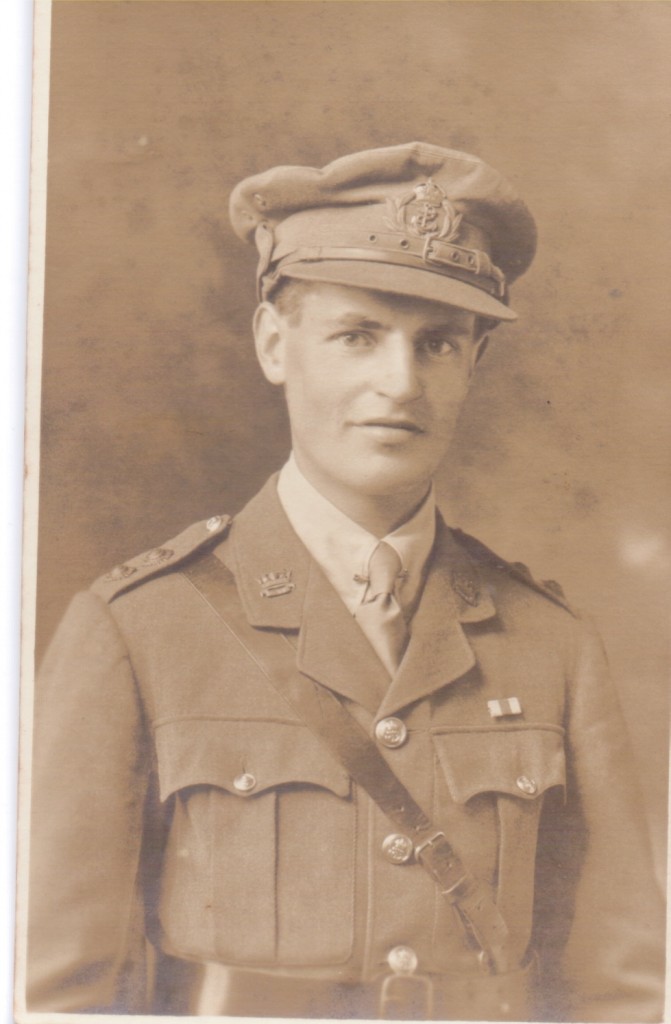 At the outbreak of war in 1914 he was studying to become a Methodist Minister at the Wesleyan College, Richmond, Surrey. He enlisted in London on 11th Sept 1914 into The Royal Naval Volunteer Reserve. Joining the Nelson Battalion as able seaman K/998 on 25th Jan 1915 he was put on the nominal role of the Battalion.
Embarking at Devonport the division sailed for Lemos in February 1915 and by the 15th March were stationed off the Gallipoli Peninsular for the defence of Anzac between the 28th April to the 12th May.
He was hospitalised on two occasions at Gallipoli at the Hospital D'Nelles on 12-19th June with D & V and 22nd-24th June with Scabies showing how bad conditions must have been The Division was finally evacuated to the Greek Island of Mudros were he was hospitalised again on 19th Dec 1915 at the 1st Canadian Stationary Hospital at West Mudros with Ulcerated Legs. On the day after Christmas he was invalided home on the Hospital Ship 'Aquitania 'and from the ship to Chatham Hospital where paratyphoid was diagnosed on recovery he was sent for convalescence.
On 16th May 1916 he joined the Machine Gun Company at Blanford for Training and on 30 July he embarked for France & on arrival on 1st Aug 1916 he was posted to the 188th Battalion 63rd Royal Naval Division
On 1st Oct 1916 he proceeded to England via Boulonge for admission to the Officer Cadet School at Cambridge.
On 1at March 1917 he was given a temporary commission as Sub Lieut. RNVR and reported to his battalion with the 63rd RN Division on 4th April 1917 and draughted to Howe Battalion.
On the evening of 20th July 1917 at Garvelle, 8 Kilometres N.E of Arras at midnight he led a raid on an enemy trench and was wounded in the action with gunshot wounds to the right arm & leg. For the action he was awarded a Military Cross for 'Conspicuous gallantry and devotion to duty during a raid. He led his platoon with great gallantry being the first to enter the hostile trench, where he shot two of the enemy who resisted, although wounded he remained until he was satisfied that his flank was secure. (London Gazette 9th Jan 1918)
After this action he was admitted to the General Hospital Rouen from the Clearing Station and then home on the Hospital Ship 'Aberdonian' on 25th July. On arrival he was admitted to the 3rd General Hospital at Oxford and declared unfit for General Service for 2 months
On 2nd Jan 1918 he was declared fit for General Service by the Medical Board at the Command Depot, Porton Down and awarded a gratuity of £68. 5s for injuries received, and his Naval career ended
On 24th August 1918 he entered the School of Military Aeronautics at Reading and on the 4th July 1919 was taken on the strength of the Royal Airforce but was demobilised 3 days later at the dispersal depot Fovant.
On returning home he married Grace Elisa Hanson on the 29th April 1920 at Dale Street Methodist Church, and settled down to married life in Radford Semele after a honeymoon in Torquay.
There first child Christine was born in 1921 at Radford and the second, Grace in Bournemouth in 1925.
Moving to Bournemouth sometime after 1921 he became an Auctioneer in the firm of Bernard, Curtis & Geden living at 'Garvelle' Fernside Road, Winton, Bournemouth, he was a great supporter of the Methodist Movement and a prominent Free Mason. He sadly died at the early age of 45 in a nursing home in Bournemouth on 15th July 1937 and his funeral took place at the Punshon Memorial Church.
Edith May Geden was born in May 1890 in Kineton and became a nurse probably before 1911 as she is missing from the 1911 Census during the early part of the war she was a staff nurse at the London Hospital, Whitechapel East in the summer of 1918 she decided to serve abroad with The Queen Alexandra's Imperial Nursing Service (Reserve) on July 12 she received her uniform allowance, Outfit allowance , Camp Kit allowance and 91 days field allowance the total sum being £38.8s.0d, she had a medical on 21 July and signed a year's contract on 2nd August 1918 the same day she embarked for France
She served in No's 6,5 & 8 general hospitals at Rouen. At No 6 she worked in the jaw ward and her confidential report says 'She is an excellent surgical nurse and has been in charge of the ward during the sister's absence, After the end of hostilities she renewed her contract on 23 Aug 1919and moved first on 4th Sept 1919 to the Casualty Clearing Station No 15 at Rouitz, 5 miles from Bethume
And on 21 Sept 1919 to CCS 19 at Boisieux au Mont just outside Arras probably to help with the closure of the stations
She was granted leave on 20 Oct 1919 until 8th Nov 1919 on the 8th Nov 1919 she was demobbed and her contract cancelled with a recommendation for a gratuity which she received, she married Thomas William Morgan Sept 1920 at Bethnal Green,
She received both the British War Medal and the Victory Medal.
GREEN
The Green Family lived in Bay Tree Cottage, Bridge Street, Kineton. Henry Green the rural postman (born Kineton 1866) and Harriet Elizabeth (born Stratford on Avon 1861) had three sons who served their Country. Henry Green died in Kineton on 3rd September 1955 and was buried in the church yard on 6th September 1955 beside his wife who had died on 22 October 1936 both funeral services taking place at the Methodist Chapel
3 Members of the Green Family fought in WW1 one of whom gave his life in the service of his country.
The elder son Kelynge Green was born on 10th September 1893 at Kineton.
In the 1911 Census his occupation is given as Carpenter & Joiner
He enlisted into the 11th Battalion, Royal Warwick's at Stratford on Avon no record of the date exists/clp 17862
The 11th Battalion was disbanded in February 1918 at Wardrecques , Kelynge transferred to the 10th Battalion which was part of the 19th Western Division 57th Brigade.
Both the 10th & 11th Battalions were Service Battalions
He lost his life on 31st May 1918 on the fourth day of the Battle of the Aisne and is buried on Chambrecy British Cemetery, Dept de la Marne, Champagne-Ardenne, France plot 1V.C.H
Henry Holtom Green the second son of Henry & Elizabeth was born in November 1898 and his occupation is given as Telegraph Boy in the 1911 Census
He enlisted in the 6th Battalion Royal Worcestershire Regiment at
Warwick 23 Aug 1916 as Pte 35165 and was to lead a very eventful Military Service, serving in the 2nd ,3rd, 5th & 10th Battalions before the end of his service.
After training he embarked for France from Southampton on 1st Dec 1916 on disembarkation he was posted to 2nd Battalion and on 11th December posted to 3rd Worcs in the Field.
He was wounded in Action on 4th June 1917 with gunshot wounds to his left foot this would have been just a few days before the Battle of Messines Ridge. He was evacuated to the 2nd Aux Hospital on 6th June 1917 and then to England on the HS St David and the General Military Hospital Eastern Command at Edmonton, London N18 where he remained until 31 Aug 1917. After being declared fit he was posted to Southern Command Depot County Cork. On the 27th Dec he was posted to the 3rd Worcester's at Stanwick, then to the 5th Worcesters in France embarking on 9th Feb 1918 finally joining a unit of the 2nd Worcs on 14th Feb 1918.
He was captured near Neuve Eglise on 13th April 1918 during the defence of Neuve Eglise an account of which is as follows: – Major Donaldson decided to withdraw and hold the Railway Embankment in the rear of his position. He sent his men back one group at a time, covered by the fire of the remainder. During that withdrawal Capt W L Smith was mortally wounded, and only 40 survivors reached the embankment. The little party lined the embankment and sold their lives dearly, but the Germans outflanked them and brought machine guns into action and most of the men were killed, the Battle Reserve of the 2nd Worcesters had ceased to exist. Major Donoldson, Lieut Treadwell and Sgt Major Paton, were all severely wounded four men of the Regiment were all that remained to be taken prisoner.
Henry was taken to the POW Camp at Gottingen in Hanover where he remained for the rest of the War.
On release from POW Camp in June 1919 he arrived home in the UK on 13th September 1919 and was posted to the 9th Battalion on July 13th finally being discharged at Fovant 31st March 1920.
After the war he joined the Birmingham Tram Company and lived at 45 Ashbrook Road, Dads, Stirchley, Birmingham
Died Bristol Dec 1960
John Wesley Green was born Dec 1895 in the 1911 census he occupation is given as Telegraph Boy he enlisted in the 9th Battalion Royal Worcestershire Regiment Pte 31039
Nothing further is known of his military career.
There is no entry date on his medal Index card may not have served abroad not on the 1914-1915 Star roll
Died Birmingham Sept 1965.
GRIFFIN
John Griffin , Dene House
Born at Tubbs End Farm, Butlers Marston & baptised at Butlers Marston on 17th Aug 1828 he commenced business at Kineton as a Grocer on 1st December 1848 at the age of 20, He was interviewed by the Rugby Advertiser (1st May 1914 Cov Standard) after being churchwarden for 50 years. Where he recollected the Oxford to Leamington Spa stage coach stopping at the Red Lion, when at school at the Round House, Edghill he recollected hearing the bells of Radway tolling for the death of William IV. He served at table for the villages of Butlers Marston for the coronation of Queen Victoria.
His first marriage to Martha Griffin took place at All Hallows, Tottenhan, by licence on Mar 2nd 1852, His second marriage to Mary Elizabeth Marshall was at Newton Abbot in Sept 1895 she was 31 years old and he was 68
Mary Elizabeth Marshall was my Grandfather's Cousin his mother being a Marshall from Whatcote.
John Griffin died 15th Oct 1915 and left the sum of £17,148 7s 6d
Johns brother Thomas was the Ironmonger in Warwick Road and his son Frank worked at the grocer after his father death on Christmas day 1901 He lived in the cottage above the Grocers in Bridge Street. He was chairman of the Kineton Conservative association, Hon Sec Hospital Ball Committee and a leading light in the Flower show.
OLDMEADOW
North Court was the home of Dr Lloyd John Hollis Oldmeadow the Kineton Doctor, who was born in 1869 in Green Ponds, Tasmania. He was the fifth general Practitioner to live in North Court, Bridge Street, Kineton
He was educated at Church Grammar School, Launceston , Tasmania followed by medicine at Edinburgh University and was Gazetted in the Hobart Mercury to practise medicine in Hobart on 10th Dec 1895. He married Ellen Florence Clerke in Hobart, Tasmania on 7th October 1897. He arrived back in England before 1898 as his daughter Ruth was born at 34 Fairfax Rd, Hampstead, London on Dec 17th 1898.
In 1901 his practice was at 15 Half Moon Street, in the Parish of St. George Hanover Square, London. He moved to Edmonton, Middlesex in 1902 where both his sons were born arriving in Kineton some time before 1911.
He was a keen member of both Kineton Cricket Club and the Warwickshire Hunt, supporting both over many years. In 1914 he was appointed Medical Advisor to the Military Hospital at Morton Paddox.
He joined the Royal Army Medical Corp in 1915 as a Lieutenant (15 Nov 1915 London Gazette) and was promoted to Tempory Captain on 15 Nov 1916 (London Gazette Issue 29840 page 11600 28.11.1916) He left for France on 13 April 1917 and relinquished his commission on 15 Nov 1917 (London Gazette Issue 30423 page 12993 11.12.1917) at which point he returned to Kineton taking an important role as surgeon at the VAD Hospital in Clarendon House, Bridge Street. North Lodge was sold in June 1919 to a Miss Fullerton and the doctor moved to Fighting House, Southam Street.
Dr Oldmeadow died on 14th January 1948 at Longmoor, Whitehill, Hampshire his probate records record his abode as Woolmer Hotel, Blackmoor, Hampshire.
At some point between his moving to Kineton and 1911 he employed a domestic maid named Rachel Green born Sidford Ferris, Oxfordshire in 1886 she was the Great Aunt of Susan Fisher of Bridge Street, she died in London at the age of 101.
POWELL
Powell Family, 4 Bridge Street, Kineton (Gable end cottage furthest from the street, now one cottage)
Thomas & Harriet Powell, lived at Combrook after moving from Worcestershire although Thomas had been born in Kineton Thomas was a Waggoner presumably working for the Verney Family. Harriet was widowed In 1898 and the family moved to Little Kineton in 1901 and later on to Bridge Street where they were in residence in 1911 the two elder daughter Louisa A & Emily were born in 1882 & 1886 respectively in Worcestershire. Their three sons John Thomas & William Arthur were born at Combrook.
John Thomas Powell born 1888 and William Arthur Powell born 1893 both enlisted
Arthur William or William Arthur (there was some confusion on which is correct as he was baptised one and registered as the other he Burial register has both.) joined the Royal Berkshire Regiment Pte 285101 and then transferred to the Labour Corp Pte 96293 there is no overseas service recorded on his Medal Card it may have been omitted or he only served in the UK
His brother John served as he is on the Roll of Honour but nothing is known. We presume Thomas stayed at home.
Emily married William Roberts in Dec 1912 at Kineton he joined the 2nd Battalion Ox & Bucks Light infantry and was sadly killed on 15 March 1916 by mortar fire,
Arthur William Powell (known as Sandy Powell ) died in Bridge Foot Cottage in 1969 and was buried on 6th March 1969.
SUMNER
Francis George Sumner, born July 1866 Whittington Court, Worcestershire.
Dene House, Bridge Street, Kineton
Father owned Park House, Derbyshire & Eathorpe Hall, Warwickshire. Trained as a land agent and came to Warwickshire in 1887 Hunted with the Atherstone, The Warwickshire & The North Warwickshire of which he is a Hunt Club Member. He played Polo was a proficient shot and a good fisherman.
The Leamington Spa Courier reported on 10th March 1916 that he had been made a Justice of the Peace for Warwickshire and had recently purchase the property of the late John Griffin in Bridge Street, Kineton & after extensive alterations are completed will take up residence. He is at present residing at the Vicarage ( a little odd as he was a staunch Catholic). Later in the month he presided over a meeting of the married men of the Village of military age who were protesting over the changes to the age limit and the appeals system of Tribunals for recruiting married men
He was also the Kineton representative of the Warwickshire Volunteer Force which was a sort of voluntary military training corps with a half company at Kineton Joshua Fielden was also involved
First wife Beatrice Francis died at the Orchard, Wellesbourne, on 5th Aug 1916 leaving him with two sons born in 1901 & 1905 respectively the younger one William St.Esprit Sumner became a Benedictine monk at Caldy Abbey and was drowned in a swimming accident on 21 Aug 1928, His younger son John Francis Marie Sumner joined the Durham Light Infantry after the war as a 2nd Lieut.
He also served on the Memorial Committee after the war with Joseph Fisher
He died at Orchard Lodge, Avon Dassett 16th Feb 1938.
TRENFIELD
Trenfield family The Red Lion . Bridge Street, Kineton
William Henry Hemmings Trenfield was born in Mickleton, Gloucestershire and baptised on 17th May 1845. In 1861 at the age of 17 he was assistant Coachman to a Farmer at Clopton called Joseph Roberts, in 1881 he was Coachman at Chadshunt House for John Jessop a retired Lieut in the Derbyshire Militia and his wife Matilda the eldest daughter of an Irish Baronet. In 1883 he married Matilda Baker who was born at Minehead in Devon and in 1881 was working as a cook in Broad Clist, Devon and may have moved up to the Kineton area to work after this. The marriage is registered at Warwick 2nd gtr of 1883 and after the marriage they took over The tenancy of the Red Lion, Kineton combining the job of licensee with that of Job master. The Licence was transferred from William Boddington to William Trenfield on Wednesday 26th September 1883 at Kineton Petty Sessions also transferred was the Hound puppy that William Boddington had been walking for the Warwickshire Hunt
Just before his wedding he had a bad accident whilst breaking in a young coach horse.
He was turning outside the Red Lion when the horse kicked out and got his leg over the pole and bolted for home throwing Trenfield off at the top of Southam Street, the coach coming to a stop outside Chadshunt when it went into a ditch and turned over the report in the Leamington Courier states that the coachman is doing as well as can be expected.
He was also a Director of the Kineton Gas, Light & Coke Company for many years a keen Quoits player and supporter of the Warwickshire Hunt walking puppies for many seasons his fishing skills reached a peak when he caught a 16 1/2 lb Pike in Nov 1909 in Compton Verney Lake
The Trenfields had 9 children 3 of whom went to War
William Henry Hemmings Trenfield died in Kineton 27 Feb 1927 leaving the considerable sum of £5,260.16s.8d His burial took place at Mickleton on 3rd March 1927 the service conducted by the Rev Hugh Holbeach vicar of Kineton
Matilda died at Glenroy , Warwick Road, Kineton 3rd March 1936 & was buried at Kineton on 7th March 1936
Their eldest son Frederick Trenfield was born at Kineton in 1884 he worked for the Stratford & Midland Junction Railway being the Station Master at Byfield, he won the Station Gardening Competition on several occasions, was on the Parish Council and won many prizes at the local flower shows he was also as his father a keen quiots player for the New Inn at Byfield. He died at the cottage Byfield , Northants on 14th May 1962
Ernest G Trenfield was born 17 Nov 1891
In 1911 census his occupation is given as a Butcher living at 19 Rother Street, Stratford on Avon
He joined the Warwickshire Yeomanry in 1914 Pte 2380 -Clp
The Yeomanry embarked on 'Wayfarer' a steamer of 9,599 tons built in 1905 by Workman, Clarke & Co Ltd, Belfast, she sailed on 10 April 1915 with 200 soldiers of the Warwickshire Yeomanry their horses and equipment.
On 11 April she was torpedoed by U32 60 miles WNW of the Scilly's. She was hit on the port side just forward of the engine room and the engine and boiler room flooded
The ship was abandoned with the horses still on-board. later on 3 officers and 18 NCO's and other ranks went back on board, they included the Co, Lt York and the Vet Nary Officer Lt R B Palmer (AVR attached) and Trenfield the list appeared in the Leamington Spa Courier on 25th June 1915 under the heading The 'Wayfarer 'Incident The officers & men who saved the horses
The ship was taken in tow by 'Framfield' to Queenstown in Ireland arriving on 13th April
6 officers and 189 other ranks and 760 horses & mules were safely landed 3 horses were lost in disembarkation and 3 yeomen were lost when a boat capsized one of those lost was Pte Phillip Charles Valentine from Mollington who is commemorated on the Mollington & Chipping Norton War Memorials.
The yeomanry finally arrived in Egypt on 24th April and then moved to Gallipoli as dismounted Infantry in Aug 1915 landing at Suva Bay on 18 Aug and went into action at the Battle of Scimitar Hill on 21 Aug. The regiment was withdrawn at the end of October after suffering heavy losses returning to Palestine in Feb 1917 under the command of the Australian Mounted Division. At some point after this he transferred to the Machine Gun Corp as Acting Sergeant 164996
For his actions in the Wayfarer affair he was awarded the Meritorious Service Medal for devotion to duty on the occasion of the damage by enemy action of Transport ships
Gazetted 06.09.1918
He was demobbed on 16 March 1919 and married Mimie May Turvey in 1923 reg Banbury. He carried on with the Red lion after his father's retirement &during WW2 he was an Air Raid Warden in the village retiring to 70 Selmeston Road, Eastbourne,
He died on 25th 1964 at St Marys Hospital, Eastbourne
Richard Frank Trenfield born Kineton Oct 1887 Bapt. Kineton, educated at Kineton Middle School and was a member of the Church Choir.
In 1911 he was lodging at 5 Warren Avenue, Moseley, Birmingham, and working as a Grocery Traveller
Joined 1/6th Battalion Royal Warwickshire Regiment, enlisting on 4th Sept 1914 as a pte and was promoted to Clp After training the Battalion embarked in Southampton on the 22 March 1915, arriving at Le Harve at 3.30 am an 23 March at 8.00 am they disembarked and marched to the rest camp (War Diary) At 2.30 They left by Train for CASSEL, after leaving 3 men in hospital and having to shoot 1 horse. They arrived at 8.30 am the next morning and route marched to OUDEJECH where they were billeted for 3 days training, then on to BAILLEOL.
On the 31 March the Battalion received orders to march to billets in ARMENTIERES, where their war started in the Douve Trenches on 16th April on taking over the trenches from the 1/5th WARWICKS. The 1/6th lost their first man on the next day and the War Diary records the 2768 Private E Croft was killed, (Edward Harry Bate Crofts aged 22 years only son of Edward and Clara Crofts of 59 Franklin Road, Bourneville, B'ham) after that the war diary records them as Other ranks killed or wounded.
The Battalion was part of The Warwickshire Brigade South Midland Division which on the 13May 1915 became the 143 Brigade 48th South Midland Divisions
Richard wrote home at the end of May the following "Last Sunday (May 30th) we had a terrible time in the trenches we had a squadron of Scots Yeomanry (50 all ranks of The Glasgow Yeomanry according to the war dairy) in our trenches for twenty-four hours' instruction on trench life (Mortar & Machine battery for instruction, War Diary) The boys who were very decent fellows indeed had not been under fire before and some of us had been detailed off to instruct them. It was most unfortunate for them being their first day, as we were heavily shelled from midday to six at night. They happened to be big shells, high explosive ones too, moat German ones are, but ours are nearly all shrapnel, not much good, the first dropped fifty yard behind ours trenches, the next about ten yards, and then one dropped about two yards in front, sending clouds of earth all over us. The boys were ordered to clear out our bay as they had got our range nicely, except the sentries who should have stopped, but the whole lot cleared out so I stopped behind as there was no one on sentry duty, the next two shells dropped in front but nearer, as I lay on the ground in the trench and felt the ground shake and tremble expecting every minute the front to be blown in, something seamed to give me strength and tell me I should be quite safe. These two shells failed to explode for some reason and are buried in front of our trench by their own force." Last bit not mentioned in the war diary
The first of July 1916 saw the Battalion on the Somme Battle field for the first day of the offensive; They went into the attack against the German lines at SERRE. On reaching the objective they were swept by Machine gun cross fire which reduced their strength to two week platoons they were withdrawn through the Quadrilateral to our own lines at 7pm and all that could be collected were withdrawn to Mailly at midnight 150 men killed and over 300 wounded only one Officer was unhurt1st Lieut J G Cooper who had taken a message back to HQ at Midday,
On 6 March 1917 Richard was invalided out for wounds and Shell Shock receiving a silver badge no 249584.
He went on to take up a Government scheme to farm in South Africa in Freetown Tarrington, sailing on the Windsor Castle on Oct 26th 1920.
In August 1933 a newspaper report was syndicated in National & Regional Newspaper in the UK and it read- "R F Trenfield of Naboomspruit , Northern Transvaal , killed six lions, meeting 12 lions he took six shots and found six dead beasts within a radius of fifty yard, a world record"
He arrived home for a visit on the 23 July 1937 at Southampton aboard the Athlone Castle, the manifest gives his brother address in Byfied as his destination
He served in WW2 and died in South Africa
Margaret (Cissie) Trenfield Born 1887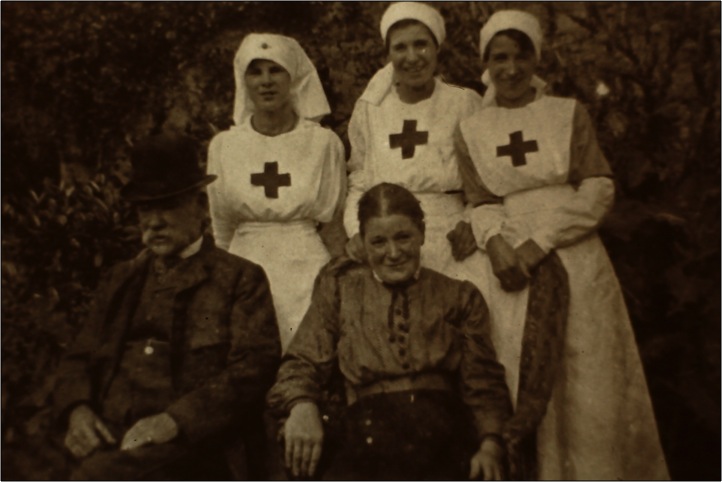 Sailed with Mable Fisher from Liverpool to Montreal on 27 April 1911 on the 'Lake Chaplain' Canadian Pacific Line
They both settled in Edmonton Alberta with Classisa Fisher (they both appear on the 1911 census on both sides of the Atlantic) Cissie decided not to stay and returned from New York on the White Star Line 'Adriatic on September 11th 1914 she arrived at Liverpool
Then nursing at Clarendon House'
Charles Henry Trenfield the 2nd son was born 2nd May 1886 at Kineton and attended Kineton Middle School I could not find him on the 1911 census
He enlisted in the 12th Battalion The London Regiment (The Rangers) and was made A/Sgt 2688from here on it gets confusing as his Officers record states he served in France from Dec 3rd 1914 to 23 April 1915 and then 3 1/2 Years in Egypt with the Warwickshire Yeomanry his medal index card shows he arrived in Gallipoli 6 Nov 1915 (ref 2b on the index card) and there is no reference to serving in France although he was awarded the 1915 Star as serving in the Warwickshire Yeomanry The other confusing bit is that in the London Regiment he was an Acting Sgt and started again in the Yeomanry as a pte and rose to cpl . Also the Rangers did not arrive in France until Christmas day 1914 what was he doing there in early December
One thing is certain is that he took part in the famous charge of the Yeomanry at the battle of Huj (Southern Palestine) when he earned a Military Medal the citation in the London Gazette On Nov 8th 1917 this NCO was conspicuous for the way he used his sword, being a fine horseman and a good man at arms he accounted for many Turks also he like aforementioned was of the greatest persistence for collecting the remains of his squadron.
He was almost certainly on the Leasowe Castle when it was torpedoed on the way to Italy
He was demobbed on 19th Feb 1919
On demob he applied for a commission in the 6th Reserve regiment of Dragoons his papers were signed by Gurnsey Walsingham Webb & Basil Hanbury
He was commissioned on 13th March 1919 and relinquished it on 1st Sept 1921
Probably died June 1958 reg at Wycombe, Bucks
WATTS
1914 County Directory but not included in 1911 census for Bridge Street Mr Watts motor Car Driver. Edgar George Watts was chauffeur to Mrs Falke at Green Cottage in Banbury Street, called before the Tribunal in early May 1916. He stated he already had four brothers serving but was willing to do his bit at any time, but wanted a month or twos grace, (given 1 month) Nothing else is known about him but presumably he joined up after the months grace, his age and origins are unknown